When people ask me what I do for a living and discover I am a dietitian, naturally I get asked my opinion about the latest fad diet and whether or not I consider chocolate to be one of the core food groups (of course I do!) But lately I have found myself in situations that have led to more interesting questions beyond my dietary habits.
I have worked in the area of nutrition marketing for many years. But over the past few years, this type of nutrition work has developed in such a way, and at such a fast pace, that a few years ago I would never have guessed that as a dietitian, I would be using digital technology and social media in my everyday job.
For many dietitians, variety is certainly the spice of the profession. For me, this has never been truer since I have established my own nutrition consultancy working in the area of digital marketing.
At the start of this month, I was invited to tweet at an obesity symposium. A couple of weeks ago, I was a guest speaker on a podcast discussing how dietitians can communicate a nutrition message via social media. And last month, I attended a dietitian blogging event hosted by Dairy Australia. Gone are the days where a media event would involve pen and paper. At this innovate event, the dietitians were seen snapping away with their cameras and Instagramming their favourite images.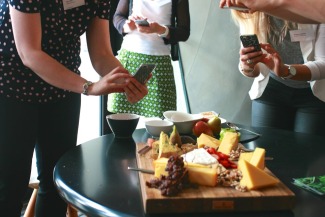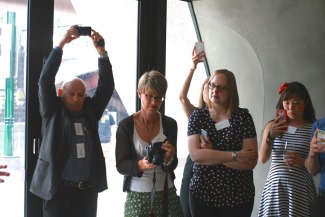 Early next year I will be hosting a workshop at Deakin University for final year nutrition and dietetic students. I hope to inspire them as they embark on their nutrition careers to step beyond the realms of traditional clinical dietetics and embrace the exciting world of digital and social media. So one day when their friends ask them about their work as a dietitian, they too can talk about how they are educating individuals and online communities using the wonderful world of digital technologies afforded to them.
And of course, they will always be able to enjoy good food, as we did when savouring the delicious cheese platter at the Dairy Australia event.
How do you think digital technology and social media has changed the dietetics profession and the way that nutrition information is communicated?